Saturday, June 30, 2007

Tag by Sandy
Please read the rules first: Each player of the game starts off by giving 6 weird things about themselves. People who get tagged needs to write in a blog of their own 6 weird things as well as state the rules clearly. In the end, you'll need to choose 6 people to be tagged and list their names.
1. I am a romantic.
2. I dislike organization in my room because disorganization means I can find my stuff better.
3. I don't like imperfection, but just got to live with it.
4. My best girl friend is the total opposite of me.
5. I indulge in weepings nearly every week.
6. When I start reading, I usually can't stop for hours.
People i would like them to do.
1. Zhi Ai
2. Bong
3. Sean Lim
4. Cason
5. Shu Yi
6. Meng Yoe

~3:27 am
Friday, June 29, 2007

Amsterdam by Scott Walker
In the port of Amsterdam
There's a sailor who sings
Of the dreams that he brings
From the wide open sea
In the port of Amsterdam
There's a sailor who sleeps
While the riverbank weeps
With the old willow tree
In the port of Amsterdam
There's a sailor who dies
Full of beer, full of cries
In a drunken down fight
And in the port of Amsterdam
There's a sailor who's born
On a muggy hot morn
By the dawn's early light
In the port of Amsterdam
Where the sailors all meet
There's a sailor who eats
Only fishheads and tails
He will show you his teeth
That have rotted too soon
That can swallow the moon
That can haul up the sails
And he yells to the cook
With his arms open wide
Bring me more fish
Put it down by my side
Then he wants so to belch
But he's too full to try
So he gets up and laughs
And he zips up his fly
In the port of Amsterdam
You can see sailors dance
Paunches bursting their pants
Grinding women to paunch
They've forgotten the tune
That their whiskey voice croaks
Splitting the night with the
Roar of their jokes
And they turn and they dance
And they laugh and they lust
Till the rancid sound of
The accordion bursts
Then out to the night
With their pride in their pants
With the slut that they tow
Underneath the street lamps
In the port of Amsterdam
There's a sailor who drinks
And he drinks and he drinks
And he drinks once again
He drinks to the health
Of the whores of Amsterdam
Who have promised their love
To a thousand other men
They've bargained their bodies
And their virtue long gone
For a few dirty coins
And when he can't go on
He plants his nose in the sky
And he wipes it up above
And he pisses like I cry
For an unfaithful love
In the port of Amsterdam
In the port of Amsterdam

~12:00 am
Wednesday, June 27, 2007

Britain's got Talent

~4:32 am
Saturday, June 23, 2007

It looks horrible!
My thumb…it's GONE!

*wails*

~2:33 pm
Sunday, June 17, 2007

R.I.P. Hassan the Cat

~1:37 am
Friday, June 15, 2007

Tribute to Hassan
See this cat?
Beautiful and charming
Soft lovely fur
Who once was shy
But now turned for good
I first saw this orange cat when he was just a little baby. We brought him and his other 3 siblings in for nourishment till we found them some other homes. Initially we called him Garfield, because he had the most adorable tuft of hair at his chest. Plus, his fur coat was almost the same as the cartoon cat.
Later on we gave him away to our neighbour and they named him Hassan. He grew into the fine-looking cat you see in the picture above. All these time he always managed to sneak into our house and play with the other female cats. Sometimes he aggravates us with his urination (sign of his dominance) in the house, but we're still utterly in love with the charming young cat.
I once mentioned that if Hassan ever turns into a human, I would totally fall in love with that man. His sweet persona, and charming attitude, with his handsome body and lovely eyes, who wouldn't love him? Obviously the female cats in the neighbourhood that weren't neutered loved him so much as well, that they even let him impregnate them.
Anna and I saw the process only this morning, it was so cute and picturesque.
But alas! His life was cut short when he got ran over by a car while he was sleeping a few hours later.
I'm feeling quite distraught now actually...
So this is a tribute to him, and I hope that he'll still be his charming, young self in Cat Heaven.
Live on, Hassan!
P.S: Anyone else who would like to dedicate a message to this cat, please do so in the chatterbox I have on the right side of this page. Thank you.
This is a serious and solemn moment.
------
Lynette honestly starts
WAILING
now...

~8:40 pm
Water has never tasted so good

~8:17 pm
crash and burn
like fires in hell
guilt and shame
holds to my cell
colours of black
red and white
meshes in
with powerful fights
red splatters
black gathers
white focuses
till time presses
red rivers
black banishes
white waters
till forgiveness flows
grace shifts
mercy rains
joy pours
love gives
hope arrives
smiles ponder
strength persists
and love overwhelms

~12:13 am
Sharp strings brightens the dark
even for a short moment
Powerful sonance shakes the glass
leaving naught but the reminiscence
Water flows from heavy fluffs
crashing upon earth like harsh whispers
Gold and silver flashes through serous
making rainbows of promise
The pipe holds strong against the wind
cooling sensations of joy reigns within
Inspiration strikes when clashes occur
reveling in the presence of nature

~12:11 am
Tuesday, June 12, 2007

Me want Cookie
Sung by Muppets
Now what starts with the letter "C"?
"Cookie" starts with "C"!
Let's think of other things that starts with "C"!
Uh. . .Uh. . . Who cares about da other things?!
"C" is for Cookie that's good enough for me,
"C" is for cookie that's good enough for me,
"C" is for cookie that's good enough for me,
Oh! cookie, cookie, cookie starts with "C"!
Hey, You know what? A round cookie with one bite out of it looks like a "C"
A round donut with one bite out of it also looks like a "C" but it is not as good as a cookie
Oh, and the moon sometimes looks like a "C" but you can't eat that
So...
Cookie Cookie Cookie Starts with "C"
Cookie Cookie Cookie Starts with "C"
What ELSKWJIEUGUHFJBFSKFV!!!
SOMEONE GIVE ME A COOKIE PLEASE???!!!

~10:10 pm
Monday, June 11, 2007

This little light of mine, I'm gonna let it shine
If you look at this picture with a Christian perspective, it has a value in it.
This little light of mine, I'm gonna let it shine
Set Apart. Unique in God's image.
Found a comment at
the webby
as shown by Qi Wen...
look at the guy pointing to the yellow one!XD it sooooo cute its like: omg shes awsome i wanna go out with her! awwwwwww!
earf
So cute!!!
I hold the truth close to my heart
Believe in one they call "True Love"
The light that shines from "True Love" dost
shoots straight inside and warms the cove

The darkness in the cove sprints past
For wondrous light have shone thy grace
Intense brightness lures the shadows
As then the hidden turns aglow

~2:21 am
Saturday, June 09, 2007

cow dat meows
Talking to Qi Wen on MSN.

Qi Wen: im a cow dat meows..it rhymes
Qi Wen: hahaahaa
Lynette: i didn't know it rhymes. thanks for pointing it out. gonna put it in my blog. Hahaha

Guess it rhymes eh? Didn't even realize that until the boy told me even after I said it so many times before. Thanks ya! LOL…

So amusing…


~4:59 am
One night with the king

Changes everything

One day in his courts

Could forever change my course

One moment in his presence

And I'll never be the same

One night with the king

Changes everything

This is my testimony
From the desert, to the king

It has been my destiny

To be chosen for such a time as this

I didn't know not how much

Dreams could become reality

Until I saw his face

His love captured me

~2:40 am
Tuesday, June 05, 2007

Break the Glass
We always shelter our lives so properly
The only thing that gives us a glimpse of the outside
Is the glass window that is planted in between
The grills that is borne to protect
Look out through the glass
See the grass, the trees, the hills,
Gaze upon the valleys and the richness of the seas
Don't you want to embrace that?
Have we become so frightened that
We can no longer enjoy God's creation?
Have we no trust in God's protection?
Have we no trust in God's salvation?
Have we no trust in God's eternal and unfailing love?
Have we turned a blind eye to His promises
and start to believe in the rules of the world?
Should we continue on living the material lies?
Perhaps it's time to break the glass between
To take a risk and see where it leads
Take the first step to punch through the glass
It may hurt, there may be blood shed
But then freedom comes to embrace
God's creation is now your place

~4:00 pm
Girl, oh girl
Why did you slip and fall?
Don't you know that it hurts
So bad till you want to hurl
Girl, baby girl
Why didn't you look where you were stepping?
Don't you know that is frankly
The cause of the accident
Girl, injured girl
Now you know the swell of the pain
The restlessness of the sleep
Tenderness has already befallen
Suck it up and Stick with it
-----
What Alicia said, "Shake your' bon bon, Shake your' ouch ouch!"

~1:19 pm
"When The Children Cry"

By White Lion
Little child
Dry your crying eyes
How can I explain
The fear you feel inside
´cause you were born
Into this evil world
Where man is killing man
and no one knows just why

What have we become
Just look what we have done
All that we destroyed
You must build again

When the children cry
Let them know we tried
´cause when the children sings
The new world begins

>Little child
You must show the way
To a better day
For all the young
´cause you were born
For the world to see
That we all can live
In light and peace

No more presidents
And all the wars will end
One united world under god

When the children cry
Let them know we tried
´cause when the children sings
The new world begins

What have we become
Just look what we have done
All that we destroyed
You must build again
No more presidents
And all the wars will end
One united world under god
When the children cry
Let them know we tried
´cause when the children fight
Then we know it ain´t right
When the children break
Let them know we´re awake
´cause when the children sings
The new world begins

~2:42 am
Monday, June 04, 2007

Secret Recipe
Smelly feet that I got
Right now in blog world

In any case, I'm here eating a Chocolate Banana cake I bought from Secret Recipe at Summit a couple of hours ago. When I was there in the shop trying to decide on what cake to buy (the typical chocolate banana or something new?), 2 waiters and a waitress was very interested in talking to me. The lady was very nice and sweet. All 3 of them were Malay.

The supervisor (I guess the supervisor from the different clothing he wore) was very friendly towards me, asking whether I want to trade in my "Phantom of the Opera" cap which I was wearing at that time with his Secret Recipe cap. I laughed politely and said no, I couldn't. Then another waiter came and started flirting, asking for my number and all, even took out a piece of old bill and put it in front of me. Told him I was too shy to give him my number. The waitress standing at the cash counter giggled and told me that he was only joking. I smiled. When I made my way out after buying the typical Chocolate Banana and the 'new' Classic Cheese cakes, all 3 of them waved goodbye and the supervisor asked me to come by more often.

Sweets.

I wonder whether FLIRTING is part of their secret recipe.
Quite a weird, but somewhat pleasant experience…

Does this happen to everyone else as well? Hmm…

~1:40 am
Friday, June 01, 2007

Top 3 males
I was looking at Jonathan Rhys Meyers pictures when I got star struck at his Hugo Boss and Versace advertisements. Then I remembered talking to Anna about how most Hugo Boss male models are really good-looking and I found myself browsing through models.com. Guess I found 2 more other guys to go on my list. So I present to you, the top 3 celebrity males.
3rd - Nicholas Bemberg
2nd - Mathias Lauridsen
1st - Jonathan Rhys Meyers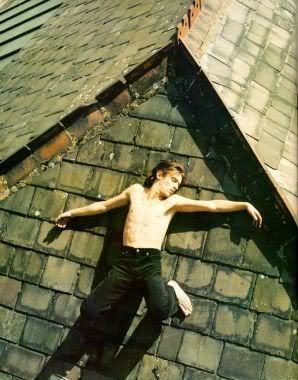 ~9:08 pm
I'm blogging with Microsoft Word 2007. Kind of cool at the moment, but takes some getting use to. I wonder how to do it in HTML format, so I can add pictures and all that. Just got to fiddle around and see how it goes…

~8:16 pm
Romans 8:18-27 (Amplified Bible)
18 [But what of that?] For I consider that the sufferings of this present time (this present life) are not worth being compared with the glory that is about to be revealed to us and in us and for us and conferred on us!

19 For [even the whole] creation (all nature) waits expectantly and longs earnestly for God's sons to be made known [waits for the revealing, the disclosing of their sonship].

20 For the creation (nature) was subjected to [c]frailty (to futility, condemned to frustration), not because of some intentional fault on its part, but by the will of Him Who so subjected it--[yet] with the hope

21 That nature (creation) itself will be set free from its bondage to decay and corruption [and gain an entrance] into the glorious freedom of God's children.

22 We know that the whole creation [of irrational creatures] has been moaning together in the pains of labor until now.

23 And not only the creation, but we ourselves too, who have and enjoy the firstfruits of the [Holy] Spirit [a foretaste of the blissful things to come] groan inwardly as we wait for the redemption of our bodies [from sensuality and the grave, which will reveal] our adoption (our manifestation as God's sons).

24 For in [this] hope we were saved. But hope [the object of] which is seen is not hope. For how can one hope for what he already sees?

25 But if we hope for what is still unseen by us, we wait for it with patience and composure.

26 So too the [Holy] Spirit comes to our aid and bears us up in our weakness; for we do not know what prayer to offer nor how to offer it worthily as we ought, but the Spirit Himself goes to meet our supplication and pleads in our behalf with unspeakable yearnings and groanings too deep for utterance.

27 And He Who searches the hearts of men knows what is in the mind of the [Holy] Spirit [what His intent is], because the Spirit intercedes and pleads [before God] in behalf of the saints according to and in harmony with God's will.
Prayer doesn't have to be shown off with elaborate skills. It doesn't matter whether it is long or short, or how flowery and powerful the language is. God looks at the heart and its true intentions. The Holy Spirit is with us as we pray, and it is the Holy Spirit that gives us our prayer. Even when we are so frustrated and despaired to the the point where we do not know how and what to pray for, God already knows what's in our minds and hearts, he can hear our cry, see our tears.
Prayer is powerful, even the smallest utterance of it with sincere faith can move the heart of God.
------
2 Corinthians 3:7-18 (The Message)

Lifting the Veil
7-8 The Government of Death, its constitution chiseled on stone tablets, had a dazzling inaugural. Moses' face as he delivered the tablets was so bright that day (even though it would fade soon enough) that the people of Israel could no more look right at him than stare into the sun. How much more dazzling, then, the Government of Living Spirit?

9-11 If the Government of Condemnation was impressive, how about this Government of Affirmation? Bright as that old government was, it would look downright dull alongside this new one. If that makeshift arrangement impressed us, how much more this brightly shining government installed for eternity?

12-15 With that kind of hope to excite us, nothing holds us back. Unlike Moses, we have nothing to hide. Everything is out in the open with us. He wore a veil so the children of Israel wouldn't notice that the glory was fading away—and they didn't notice. They didn't notice it then and they don't notice it now, don't notice that there's nothing left behind that veil. Even today when the proclamations of that old, bankrupt government are read out, they can't see through it. Only Christ can get rid of the veil so they can see for themselves that there's nothing there.

16-18 Whenever, though, they turn to face God as Moses did, God removes the veil and there they are—face-to-face! They suddenly recognize that God is a living, personal presence, not a piece of chiseled stone. And when God is personally present, a living Spirit, that old, constricting legislation is recognized as obsolete. We're free of it! All of us! Nothing between us and God, our faces shining with the brightness of his face. And so we are transfigured much like the Messiah, our lives gradually becoming brighter and more beautiful as God enters our lives and we become like him.
Worship is no longer like the past. Now we can enter into the Holy of Holies. Be warned though, when we do enter the Holy of Holies, God will convict us of our sins, because he is pure and so holy. In His presence we need to get ourselves right. When Jesus died on the cross, IT IS ENOUGH for us. He granted us freedom and grace even though we were undeserving. So we are to be Slaves of Righteousness, and to be more like Jesus.
There's no such thing as middle ground between us and God. It's either we obey, or we disobey. It's either we accept, or we reject. In worship, whenever we lift our hands for show, or just because we want to impress the people that we are 'oh-so-holy-and-righteous-and-worshipful', then somehow we have already rejected what God can do in us. Sometimes pure worship to God means not raising up your hands, not jumping around, but to stand still and enjoy Him, being focused on Him, accepting ALL that He has done for us. Worship is a lifestyle, where every single second of your life is given to worship the Sovereign King and Master of our hearts.
One day, One glorious day
I will sing in the presence of angels
Until that glorious day
I offer my life to you
Youth Alive WA

~12:19 am